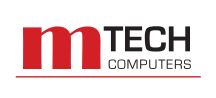 Who Are We?
M Tech Limited is a Timaru based computer company who have been supplying South Canterbury businesses with computer hardware, software and support since 1995. Aaron May is the Founder and Managing Director, and welcomes your enquires.
What do we do?
We design, supply and maintain computers, printers and software to businesses both large and small. We provide installation, training and ongoing support. We offer on-site support within the South Canterbury area.

Our staff are technicians, not sales people, so we know how things work, and how to make them work when they don't! From the biggest server to the smallest PDA, from the fastest laser printer to the prettiest inkjet, and backups using large capacity tape drives to little memory sticks - we have them covered.

From a basic home computer to a powerful gaming notebook to a large corporate network, from a small office to a large one, over the years we have helped with a wide variety of situations. We can help with the design of the building cabling; network infrastructure; server and workstation configuration; backup and security. We can even suggest cabling and telephone contractors and assist with the selection and setup of your Internet Service Provider, with email, web pages and domain names.

We strive to understand your business. Every office is different, with differing priorities and values. Reliability, cost, features and ease of use all play a part in the decision making process. Not only is our advice generally free, we've even been known point out that clients don't need particular items. We are certainly not out to sell things, rather to make you business work as well as it can, so we gain your trust, not your dollars.
Where Can You Find Us?
How Can We help You?
Teamviewer
Links

Remote Support
If you already have Teamviewer installed, look for the

icon down by the clock in the bottom right corner of your screen.
When things go wrong, you need to get back on track quickly. Modern computer systems have many components. Software can come from a variety of places and updates happen regularly. Unfortunately, when things go wrong, its hard to know who to call. We offer a first-point-of-contact service for our clients, giving your staff peace of mind about deciding whom to call. After a free* call to explain the problem, we can direct your staff to the relevant support or come on site if required. We can also liaise with other helpdesks on your behalf.
We offer remote support via the use of Teamviewer to assist with diagnosing and helping with issues in addition to our policy of free* after-sales phone support for our products.
* "Free" means that, for calls of a reasonably short duration, we will not charge for our time. It doesn't refer to any toll or call charges your phone company may charge. We, of course, reserve the right to change the policy at any time, without notice. Remote and Phone Support is charged at our standard hourly rate, with a minimum charge of a quarter hour.